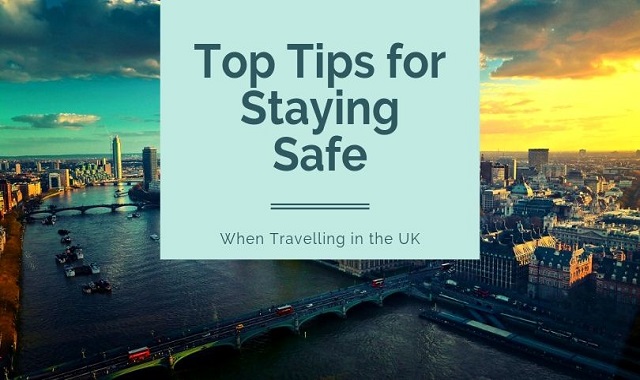 Top Tips for Staying Safe When Travelling in the UK
Top Tips for Staying Safe When Travelling in the UK
The UK has so much to offer from the wilds of Scotland to the coastline and mountains of Wales, to the diverse landscape of England and the beauty of Ireland. Whether you are opting for a staycation this summer or visiting from far away shores, staying safe means you get to really enjoy everything that the UK has to offer.
Personal safety
The UK is largely a safe country to visit and travel around but being aware of your self and personal belongings are important.
Consider whether standing out like a 'tourist 'is the right thing to do – be mindful that standing looking at a map could mark you out as vulnerable to pickpocket and thieves.
Secure all your valuables – from smartphone to the latest digital camera, all that technology in your bag adds up to a significant investment. Always be aware of where your valuables are at all time and be aware of the distraction techniques thieves use to make off with your stuff right under your nose.
Withdrawing cash at ATMs – it's something we do every day without giving a second thought. Before you take your card from your wallet or purse, take a few seconds to check the machine and always be aware of who is stood behind you. And don't allow anyone to talk to you whilst you are stood at the machine.
Asking the right people – the vast majority of people in the UK are genuinely willing to help but it pays to take a moment to consider if you are asking the right people. Asking a police officer or special constable is always a winner, as well as asking store staff, bus drivers etc.
Preparing in case the worst happens
No one likes to think of things going wrong when they travel but stuff does happen, no matter how much you try to avoid it. Being prepared is key:
Photocopy – have a copy of all your important travel documents with you but keep them separate from your main passport, travel tickets etc. if you are travelling to the UK from abroad, leave a copy of all photocopied documents with a relative or friend at home too.
Consider – take a long hard look at the expensive kit you are travelling with. Do you really need your laptop, Kindle, phone, expensive headphones, smartphone and so on with you?
Money-savvy – with so many e-banks offering low-fee for contactless payments, the need to carry large amounts of cash is virtually gone. Yes, you'll need a little on your for cash-only purchases, such as car parking tickets but even your morning coffee and croissant can be paid by a contactless card or via an app on your phone.
Purse and wallet – if you do pay contactless with a card, invest in a wallet, purse and phone case that stops other thieves from accessing your card.
Don't forget…
If you are visiting the UK from abroad, don't forget we are one of five countries who drive on the left, something you will need to be aware of not just if you hire a car and drive in the UK but when crossing the road too.