Need a trusted security company to supply security staff to your event in Bedford?
Planning an event, private party or celebration is a feat or organisation. There are caterers to book, entertainment to hire and then there is security. Have you hired your event security team yet?
Why event security is important!
Event security should not be left to chance. Unfortunately, there are people who attend an event with the intention of 'causing trouble' or disrupting it.
There are other safety concerns too, such as evacuation procedures, that an Envisage Security Staff team will be able to take care of.
Event security is important for a number of reasons;
• Insurance – you may your insurers insist on security. Someone wearing a high-viz vest no longer covers it. The only option is SIA licensed event staff.
• Responsibility – you want to enjoy your event too but the weight of responsibility for spotting problems and dealing with them is stressful. And unnecessary when you hire an event security team from us.
• Peace of mind – everything is covered, from evacuation procedures to evacuation routes, to having trained, experienced security staff being the 'eyes and ears' of the event, preventing problems and diffusing tensions.
Event security and safety must be carried out by a professional SIA licensed professionals.
This is so you have the peace of mind that in the event there is a problem, it will be dealt with appropriately and professionally.
What services do we offer?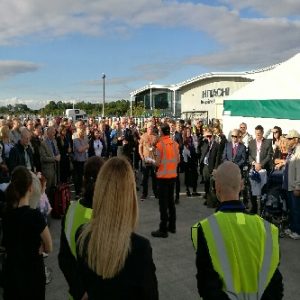 We offer a range of services for both commercial and private customers. We can provide event security staff and solutions for indoor and outdoor events in Bedford, including sporting and music events. We also work at a range of corporate events including trade show and exhibition security.
We are wedding security specialists too, and provide discreet security team for private parties, from birthdays to anniversary celebrations.
We can provide;
• Professional marshals and stewards
• TV & film security
• Security checks including, scanning badges, checking ID and bag checking
• Entry and ticket management
• And more!
We start by performing a thorough risk assessment and security assessment so you get the right level of security support at your Bedford event. We do this whether it is a private party, a wedding celebration or a corporate event.
How much will event security cost in Bedford?
We will provide you with a competitive quote. Contact us with an outline of your event and we will work with your budget to provide the essential event security solutions you need for your Bedford event.
From a private party to a large conference or exhibition hall, we have the SIA licensed event security staff that you need.
Call the team on 0844 800 0071 or us the contact form for more information and a no-obligation quote.