Queue Management Stewards for Social Distancing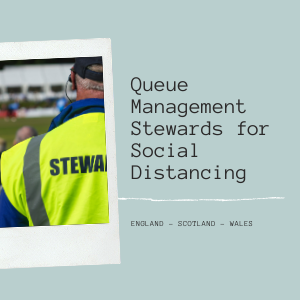 The world has changed as we know it, and some of the changes could be here to stay. One new social norm of the pandemic is of course social distancing. Retailers especially will be needing to observe this new rule to keep their customers and employee safe.
While you can of use your own staff to manage the situation, they are often best suited to their normal duties inside the store, so why not let us do this for you? Free up your staff to deal with customers, keep them and your customers happy buying all the products they have missed for the last six months.
All the UK covered with 8,000 registered staff at your disposal
We can provide you with stewards to manage your queue, including duties such as:
• Keeping the queue moving
• Keep customers standing in the right area so not to block pathways
• Help move signage
• Handle curb side pickups
• Communicate politely with customers
• Identify any heated situations and neutralise them
• Making sure there is no queue jumping
• Interact with customers and answer their questions
• Remind people to sanitise their hands as they enter
• Adhering to social distancing rules
How can you make sure you are adhering to Government guidelines?
Official guidelines during the pandemic have changed quickly. Hiring professional stewards and marshals from Envisage Agency means they can be informed daily and ensure changes are conveyed and observed.
We have staff across UK, but we only use staff local to you. This ensures that they know your area and minimise cross county contamination but also means no additional travel expenses for you to pay. Being local also bring the advantages of better engagement with your customers and visitors.
If you would like a free no obligation quote call 0844 800 0071 or complete our contact form below.