Hire Event Security Personnel in Bournemouth
Whether it is a music festival to which thousands of revellers are expected to flock or a private birthday celebration, event security is a must. If you are holding your event in Bournemouth, we have the security staff you need!
Why hiring the right event security staff in Bournemouth is key to success
When people attend your event, they need to be confident that it is a well-run one, and that as event planner and organiser, you have taken all necessary steps to ensure that everyone is safe and the event secure.
And that means hiring SIA licensed event security staff in Bournemouth.
From private events to events such as the Gin & Rum Festival to summer music events and festivals, the world heritage site that is the Jurassic coast and home to the town of Bournemouth is an area alive with events and activities all year round.
Event security staff ensure that your event is safe and that means turning to an established security staffing company who can not only supply local security staff to be more cost-effective but also offer free advice on event security.
Why hire event security staff from us?
At Envisage Security Staff, we regularly supply security staff and teams of personnel at events across the UK. We have thousands of trained, experienced and SIA licensed security staff on our database, many of whom live in or around Bournemouth.
By using local staff, your event budget stretches further but it's not just about the money – it about the services we can offer and the high standard that we deliver them too.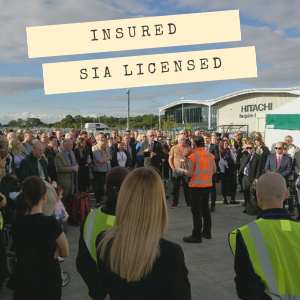 We work with event organisers and private clients to provide security staff at a range of events including;
• Bournemouth music festivals
• Food expos and festivals
• Conferences and trade shows held in the town
• Agricultural and county shows and fairs
• Exhibitions
• PR stunts
• Sporting meets, road races and more
• Retail queues at Bournemouth shopping centres and outlets during peak sale season and more!
As well as exceptional customer service, all our event security staff are trained and SIA licensed, as well as offering a professional each and every time.
The range of event security services we provide include;
• Car park management and onsite traffic control
• Crowd management
• Wedding security
• Exhibition and conference security
• Event security staff
• Private party security staff
• And much more!
We can tailor our services to meet the needs of every client and their event. No matter whether you are hosting a private party or a three-day sporting or music event, we have the right service and security staff.
How to book event security staff for your Bournemouth event
Booking the right event security team for your Bournemouth event is simple and straightforward. You can call us on 0844 800 0071