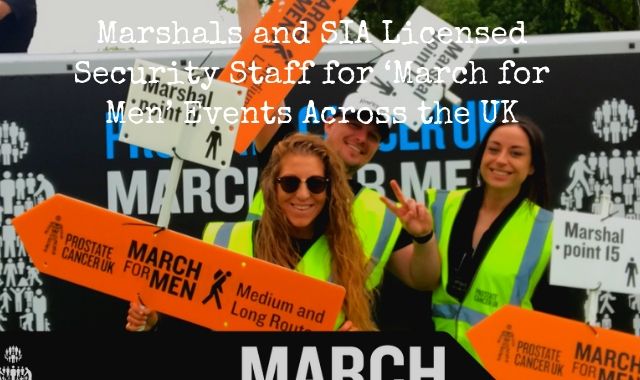 Marshals and SIA Licensed Security Staff for 'March for Men' Events Across the UK
Marshals and SIA Licensed Security Staff for 'March for Men' Events Across the UK
Prostrate cancer statistics are concerning. Over 47,000 new cases were reported in the UK between 2014 and 2016. Although there are symptoms, not all men are comfortable talking to their GP or seeking medical treatment and help.
The March for Men events being held across the UK aim to change that and to start a national conversation about prostate cancer that can affect men of all ages. But like all public-attended events, security and marshals are essential for their smooth running.
Why use SIA licensed event staff?
Event security, no matter what the subject or where it is held, is very important. Even though March for Men events are for a good cause but not everyone has the best of intentions. Visible event security is important but make sure you use SIA licensed event security staff like the organisers of the main March for Men events did.
Can spot problem signs early – SIA licensed security staff are trained to deal with all kinds of security issues and incidents. But they are trained to constantly survey the event and the crowd, spotting any problem signs early.
Professional approach – for any event but especially March for Men that has a high profile media coverage, the need for a professional approach from event security staff is also essential. Friendly and approachable, event security staff also need to be able to 'take chare' when an incident dictates.
Expected and welcomed – event security staff are an expected sight at events. Event goers will often seek out security when they need information or if they spot a problem and so SIA licensed security staff are essential once again. Arriving fully briefed, they will have a detailed understanding of the event security plan and the role that they are to play.
In the case of March for Men, we provided SIA licensed event security staff who were highly visible. The client loved their professionalism and how much they went out of their way to help everybody.
Event marshals
As part of the assignment, we also provide marshals. These are the people that you will see en route of a race or in this case, a walk over several miles, depending on the event being organised.
They provide the backbone of organisation of the day, making sure that people find themselves to the start line, along the course and of course, find the finish line successfully.
They are also the people who have the information that March for Men attendees will often need, such as the nearest refreshment station, the way back to the car park and so on. They'll also make sure traffic is managed well at the event.
Our marshals are known for arriving early, ready for the event ahead. Encouraging participants, marshals are an important part of an event like March for Men – one of the reasons why event organisers come to us time and time again!