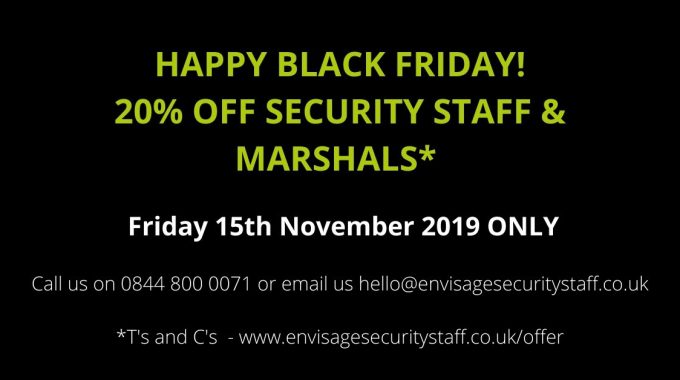 Take advantage of our Black Friday 20% off promotion!
Here at Envisage Security we go a little potty for a Black Friday deal – so we are running our very own!
If you book security or marshalling staff on Friday 15th November 2019 ONLY we will give you a 20% discount of the price of the staff.  So get booking: –
Marshals can be used for event management, concerts, car parking attendants over Christmas, registration staff and crowd control.
We also provide responsible, experienced and most importantly, licensed security guards for conferences, events, TV and Films, construction and building security.  You name it, we can provide it!
Check out the T's and C's below – we look forward to hearing from you.. 0844 800 0071 or hello@envisagesecuritystaff.co.uk
T's and C's
This offer is only valid when booking on 15th November 2019, it does not apply to an existing booking, a quote which is requested on this date and then booked after. Please do not ask for the discount after this date.
The Promoter accepts no responsibility for late, incomplete, incorrectly submitted, misdirected quotes or correspondence whether due to error, omission, alteration, tampering, deletion, communications failure or otherwise.
We define security as the measures that are taken to protect a place, or to ensure that only people with permission enter it or leave it..  This includes construction and site security, festivals, private parties, crowd management, TV and film security, and exhibition and conference security.
We define marshalling as the process of controlling, leading, or organizing a number of people or things.  This includes car parking, traffic control, fun runs, ticketing and scanning services and stewarding.