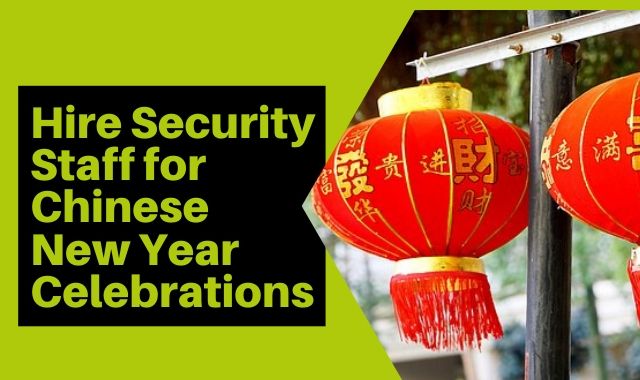 Hire Security Staff for Chinese New Year Celebrations
Hire Security Staff for Chinese New Year Celebrations
From London to Birmingham, Southampton to Manchester, Cardiff to Edinburgh and beyond, Chinese New Year is a large celebration that everyone enjoys. A colourful and noisy spectacle, it is the biggest festival of the Chinese calendar and that's why security is essential.
When is Chinese New Year?
Chinese New Year follows the lunar calendar which is why the festival date moves each year. In 2020, the celebrations fall at the end of January but in 2021, it won't be until early February as it coincides with the phases of the moon.
Essentially, it was a one day celebration but being such an important festival, it has now grown into a long weekend of fun, excitement, colour, noise and the best of Chinese food.
Many cities organise Chinese New Year events alongside their Chinese community and so it is not uncommon to find public events on the calendar around this time.
Private celebrations are common too, and whether your event is attended by the public or a private affair, hiring security staff for Chinese New Year celebrations is essential.
Why you should hire security staff for Chinese New Year events
Hiring security staff for events is important. People have an expectation that they will be safe and that means they want to see official security measures, including security staff, in place.
But there are other reasons why you should hire security staff for Chinese New Year celebrations;
Compulsory for some public events – for public attended events, security staff will form part of the overall security plan for the event. The risk assessment will identify security hazards and levels of risk and how security staff will play a role in reducing or negate these risks.
Safety and enjoyment – security staff contribute to the overall smooth running of an event and as such, people attending your Chinese New Year celebration will expect to see safety staff, including marshals and stewards. By contributing to its smooth running, people leave with a great final impression of your event, meaning they are more likely to come back next year.
Not just security… – as well as being part of crowd management and staffing exit and entry point, security staff at your Chinese New Year celebrations can also act as first aiders, as well as being 'points of information' about the event and so on.
Evacuation procedures – it is a sad fact of life that no matter what kind of public event you organise, you have to consider the possibility of some kind of incident or attack. Security staff are pivotal when the evacuation of a venue, indoor or outdoor, is needed. Directing people calmly is part of the training that security staff receive when studying for their SIA licence.
Hire the best security staff this year's Chinese New Year celebrations!
Hire our security staff for peace of mind that your event will be smooth running, and fun and enjoyable for everyone who attends. Call us on 0844 800 0071 to book your team.