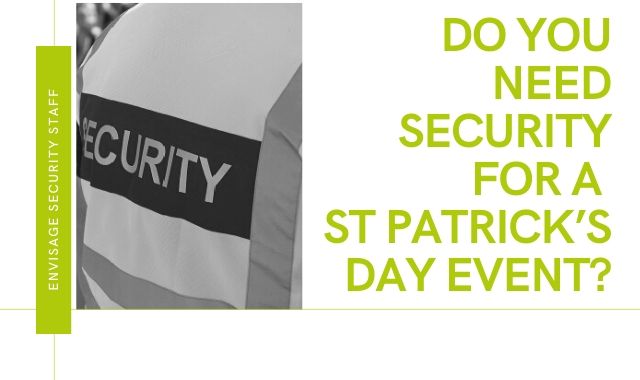 Do You Need Security for a St Patrick's Day Event?
Do You Need Security for a St Patrick's Day Event?
Like all events, the potential for your St Patrick's day party or celebration to be busy and over-subscribed – on one hand, that's great news but from an event security perspective, it could spell disaster. Hiring security for your St Patrick's day event ensures it is the success that you want it to be.
Why hiring event security is a must!
St Patrick's day is not the only celebration that you may decide needs to be celebrated fully and there are many reasons why hiring event security is a great move…
#1 An essential part of crowd management
Whether you have a list of invited guests or it is a public event, it is important that the crowd at your St Patrick's day event are effectively managed. This means spotting problems before they start and diverting attention from them but also acting swiftly and decisively when there is an incident that must be dealt with.
Effective crowd management at an event is an essential part of good management. It makes sure that everyone is free to enjoy themselves.
#2 Effective event management
As an event organiser, you have to balance many aspects of event management. When you get them all right, your event is a success.
Event security is one of those factors. In modern times, people expect to see visible security at an event, including marshals and stewards at St Patrick's day events. People want to feel safe – event security contributes to this.
Security staff are important in that they are also important people when it comes to distributing information to your attendees too. In fact, there are many roles that event security can play at your event.
#3 Leave people with a lasting, good impression
You want anyone who attends your St Patrick's day event to have a great time. Just as important is for them to leave to with a great impression because when this happens, this impression is long-lasting.
And that means, when you want to plan your next event, people have already had a great experience. This, in itself, is a brilliant way to market your event.
Security adds to this sense of how great your event was. People feel safe and, if there is an incident, event security personnel who can respond swiftly and decisively also contribute to the sense that the event is being well-managed.
Hire the best event security for your event
But, you only get the best response from event security teams when you hire the best. This means hiring security for your St Patrick's day event who have SIA licenses, who operate in a proactive and proficient way but, more importantly, understand what your event is all about!
At Envisage Security Staff, we have experienced and licenced security staff available for St Patrick's Day events in Dublin, across the rest of Ireland and the UK – all you need to contact us, tell us about your event and we'll do the rest!