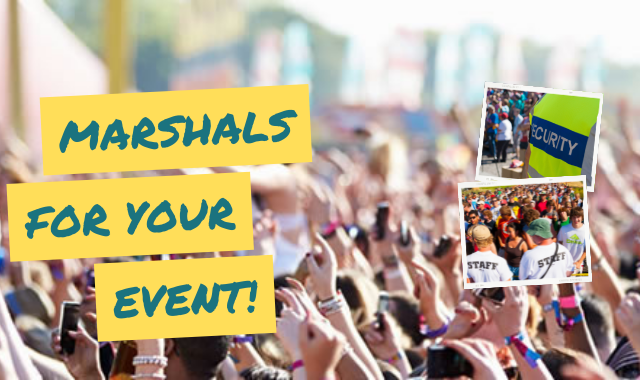 Overlook Marshals at the peril of your event!
Overlook Marshals at the peril of your event!
Are you overlooking a crucial part of your events preparation? All too frequently, marshals are the forgotten members of the team, yet without them it is hard to run a successful event.
Just think back a few days to the Travis Scott Astroworld concert, where a crowd surge resulted in people dying and experiencing serious injury. Without Marshals at hand to organise crowd control and provide first aid, the situation could have been even worse.
Whatever the size of event, marshals play a crucial role whether it is a music festival, a sporting event, a charity run or a Christmas market, which means care has to be taken early on to ensure you have sufficient number of marshals available, and have hired the best possible team available.
Seeing marshals organising traffic entering and leaving car parks, it is easy to think this is all that they do. In reality, a marshal has to be able to cope with anything.
Often standing outdoors for hours in all weathers, marshals not only organise the car parking but manage entry points, stop traffic on occasions to let vehicles out, ensure that vehicles go to the right car parks and ensure event attendees cross roads safely.
Customer care is another important function, as the marshals have to check tickets, manage queues and be prepared to answer all kinds of queries about facilities on site such as where toilets, medical facilities or catering tents are located. They may also have to provide local knowledge – how to get to different destinations at the end of an event, or the locations of nearby hotels and restaurants. Even when the event ends, their job has not ended until everyone has left the car parks safely and the site clean up is complete. Signage has to be removed, entrance tents taken down and ropes marking parking areas collected and put away.
Quite simply, marshals have to be prepared for anything. In an emergency, they are the first people to whom attendees turn to for help. Marshals have to be prepared to take the initiative if necessary – if someone is ill, they have to help them to the medical tent and ensure they get appropriate care. In bad weather, on a muddy field, cars often get stuck in the mud. It is up to the marshals to find straw to give them some leverage, and if necessary even a push start to get moving. Then there is the need to ensure other cars avoid them and don't crash into them in the dark, help organise assistance if breakdown vehicles have to be called. There is a lot of responsibility resting on the shoulders of a marshal.
Working with a reputable events recruitment agency such as Envisage ensures that you get the best quality staff. Envisage staff are fully trained and highly experienced. They are briefed before arrival, and have all the information and contacts they might possibly need during an event. Being local, they can also provide any local advice attendees request.
They also come prepared with mobile phones containing all relevant emergency contact numbers. They know that warm clothes are essential as are comfortable, waterproof shoes since a marshal will be on their feet for a long time. Given the vagaries of British weather, rain clothes are equally important while visibility vests ensure they are easily seen and identified at all times.
Overlooking the importance of marshals at events is definitely a mistake. The presence of high-quality marshals contributes significantly to the overall professionalism of an event, playing an important part in ensuring success.
Get a quote to hire Marshals at your next event
As part of the Envisage Agency Group it means we have access to Marshals across Scotland, England and Wales. To find out more information or to simply get a quote either fill in the form below or call us on 0844 800 0071