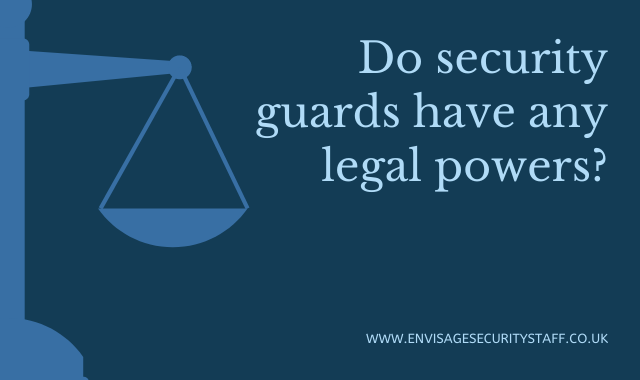 Do security guards have any legal powers?
Do security guards have any legal powers?
Hiring security guards to provide protection at premises or events – but do they actually have any legal powers?
Every business and event needs to ensure that their staff and visitors work in safety, and that there are no problems caused by break-ins and vandalism. Unfortunately, there is no guarantee that the police will arrive in time to deal with problems, which is why companies use private security guards.
By having your own security guards on the premises you can guarantee that there is always someone keeping watch over your business and has your business interests at heart. Security guards are able to respond immediately, and often just the sheer awareness that they are on the site will prove a deterrent to possible intruders.
But what happens when intruders break in? Or cause problems and disputes on your premises? Do they have any powers of restraint? Can they legally do anything? Understanding exactly what a security guard can or cannot do is essential – after all, they are not members of the police force.
In fact, just like any civilian, security guards have no legal powers. But by virtue of their work as a security guard, they are allowed certain tasks.
Detaining
If someone is breaking in, causing damage or other problems on your premises a security guard can detain them.
Under the terms of Section 24Å Police and Criminal Evidence Act 1984, security guards just like any member of the public is allowed to detain another person if:
• An offence is being committed
• There is reason to believe that an offence is being committed
• An offence has been committed and the probable perpetrator has been identified.
• There is no police officer present to make an arrest
• There is a need to prevent someone causing physical injury to themselves or someone else
• To prevent someone causing loss or damage to property
• To prevent someone getting away before a police officer can arrest them
If a security guard sees a crime being committed, they can detain people or perform a citizen's arrest. This can also relate to crimes dealing with theft or vandalism due to clauses in the Act relating to "preventing a person causing loss of or damage to property'.
Use Force
Security guards are allowed to use 'reasonable force' to prevent crimes under the terms of Section 3 of the Criminal Law Act 1967. They are not allowed to use weapons.
Use Security Dogs
Security guards can work with security dogs. Under the terms of the Guard Dogs Act 1975, Security guards working with dogs must be trained handlers. The dogs must always be on the lead, and be under control. Notices warning that security dogs are present must be clearly displayed
Search people
Security guards can carry out searches of people or their bags with permission. Forced searches are not allowed, even if a crime is suspected. All they can do is detain that person until the police arrive.
There are some exceptions:
Bags and other property left unattended in suspicious circumstances can be searched
Security guards can search bags or wallets if someone is unconscious and they are trying to help them, and identify them.
Security guards can refuse to allow people to enter places like museums, airports, clubs, sports stadiums if people refuse to allow bags to be searched, in order to prevent drug use or terrorist acts.
SIA Licenses
Security guards need an SIA licence in order to carry out certain tasks such as surveillance using CCTV, key holding, vehicle immobilising, cash and valuables in transit or close protection. The SIA licence also means that they are fully trained to protect themselves, the public and your business.