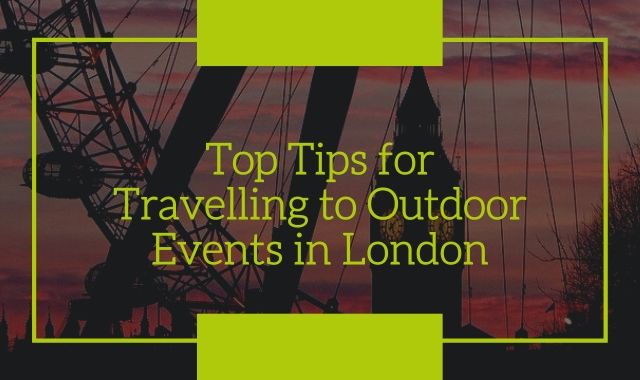 Top Tips for Travelling to Outdoor Events in London
Top Tips for Travelling to Outdoor Events in London
Festival season is nearly here. With these and other outdoor events planned in the capital, you may be intent on travelling to London several times over the summer. Travelling safely is part and parcel of enjoying yourself and we have tips on travelling to London safely.
1. Do your research
London is a large city and there are few people who know every nook and cranny. In modern London, there are relatively few no-go areas, but you do need to be aware of your surroundings. You also need to be confident in your travel arrangements, understanding the best way of moving around the capital.
2. Pre-buy tickets for the Underground and London buses
To make things easier, pre-buying tickets for travel once in London will make moving around the city much easier.
A pre-paid Oyster card, for example, means you can travel around the capital as well as too and from events without carrying too much cash. It is also possible to use your phone too, to swipe on buses etc.
3. Get travel insurance
The temptation when we travel within our own country is that we assume our home contents insurance policy will cover our belongings should they be damaged, lost or stolen. This may be the case – you'll need to check the policy details – but when it isn't, it makes sense to buy travel insurance.
Opt for an annual policy and you won't need to think twice when you next take off to an outdoor event in London.
4. Have a plan
From a security point of view, there are many things that can go wrong. From your bag being stolen with your purse or wallet inside to an external event, such as a terrorist incident or threat.
These are not exclusive to London – they can happen anywhere – and whilst we don't like to think of such a dreadful thing happening, we do need to think through what we need should it happen.
This is especially important when we are in an unfamiliar place. Familiarise yourself with what to do such this kind of rare event occur.
5. Leave a copy of your plans and movement with someone
Just like when you travel abroad for events and holidays, leaving a copy of your itinerary at home or with a trusted friend is also a good move. This way, you can stay in touch with family and friends at home. Staying in touch is an important part of travelling, even if it is a train journey to the capital for one of the many wonderful outdoor events being held in London.
6. Be confident
The likelihood is your trip to the capital will pass without incident. You will find many other people making their way to the event and the atmosphere will be fantastic.
However, your body language is an important signal of staying safe. This means you need to travel with confidence, giving the impression you know where you are going and that you have an awareness of those around you.
Research the best way to get to an event, and make sure you have a safe way to travel back to your accommodation. Keep your valuables close to you at all times and stay in touch with someone at home who can help you should you need it.