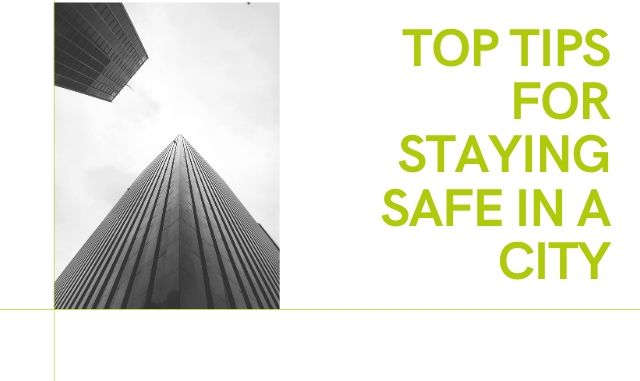 Top Tips for Staying Safe in a City
Top Tips for Staying Safe in a City
Whether you live in a thriving metropolis or are visiting a city to take in its sights, staying safe will be top of your list. And with yet another terrorist-related incident in the capital, now seems the right time to refresh the memory of safety whilst travelling.
Just how safe are UK cities?
We need to start by clearly stating that UK cities are amongst some of the safest in the world. However, there are risks no matter where you visit.
London, for example, is often in the news for knife-crime, an issue that has plagued the streets of the capital for some years now. Manchester sees its share of issues and incidents although overall reported crime in the city in 2018/2019 dropped by 4%.
You can take steps to avoid crime by staying alert and aware of your surroundings at all times. But what other hints and tips for staying safe whilst travelling are there?
Awareness of you and your surroundings
Whilst some crimes are intentional and planned, other forms of crime are opportunistic. And so not presenting an opportunity for thieves etc. is one tool in staying safe;
Avoid the 'touristy look' – in some cities, visitors stand out a mile and although this doesn't make you an immediate target, it can be a clue to thieves and pickpockets to take their chance.
Wallets and purses – keep your wallet or purse in a pocket or bag that at the front of your body. It takes seconds to lift a wallet from a back pocket and you won't notice for a long time…
Awareness – be aware of who is around you, especially if you are handling large amounts of cash or have expensive items on you. Sometimes, it pays to leave your valuables in a secure place rather than have them with you.
Be savvy – whilst you should be able to walk down the street at any time of night and day and be safe, this isn't the case. Once dusk has fallen, consider public transport as opposed to walking.
Face oncoming traffic – many thefts these days are from people on mopeds or in cars and so facing oncoming traffic as opposed to traffic coming up behind you negates some of this risk. Don't walk with items in your hand that can be easily snatched.
Pickpocketing
Pickpocketing, the 'skill' of removing things from people's pockets without them noticing, is not just a city issue but when there are crowds of people, all unaware of who is around them, pinching phones and purses from bags and pockets is easily done. And you are unlikely to see them again or for the culprit to be caught.
Keep copies – keep photocopies of everything from your passport to driving licence to tickets and so on so that should the worst happen, you have the info you need to replace them.
Valuables – only travel with the valuables you need. Leave the other stuff at home.
Secure your bag – thieves are less likely to attempt a theft if they have to disturb the bag and its contents. Strapping your bag to you so that no matter whether you are walking or sitting, it is secured to you. And keep it on your front and in your vision every time.
Stay vigilant – when visiting any city, it is easy to become so enthralled in sightseeing and beautiful spaces that your normal caution drops away. Be alert and aware of your surroundings. Stay in busy areas but avoid jostling crowds.
From Edinburgh to London, Manchester and beyond, UK cities are full of wonderful sights and people. Just remain alert and savvy when travelling to maximise enjoyment and comfort.