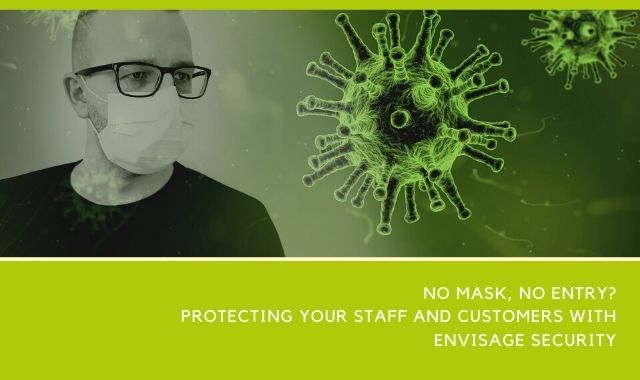 NO MASK, NO ENTRY? PROTECTING YOUR STAFF AND CUSTOMERS WITH ENVISAGE SECURITY
NO MASK, NO ENTRY?
PROTECTING YOUR STAFF AND CUSTOMERS WITH ENVISAGE SECURITY
From 24th July, shoppers will be required to wear a face covering in UK shops or be subject to a £100 fine for non-compliance.
How Envisage Security can help with the new rules…
After being in lockdown for over three months, shops, bars and hairdressers are cautiously getting back to business as restrictions ease in order to recoup some of their lost revenue.  From the 24th everyone (with the exception of children under 11 and those with certain disabilities) must wear a face covering in shops or shopping centres.  The term 'face covering' refers to actual face masks (surgical, cloth or home made) to simply a scarf or bandana tied around the head.
Research has shown that face coverings trap the minute droplets we release when coughing, sneezing and talking thereby significantly reducing the risk of Covid-19 transmission to others.  Put simply, they protect the wearer from spreading and catching the virus (especially in enclosed spaces where social distancing is not always possible).  An Oxford University study has shown that even reusable cloth masks can provide 95% filtration which combined with social distancing and good hand hygiene can significantly reduce the risk of Coronavirus transmission.  In fact, face masks and coverings may prove to be central to the re-opening of our economy, enabling the UK to get back to work safely and minimising the risk of a devastating second wave.
Police officers will be enforcing this policy and responsible for issuing fines for non-compliance, however their chief officers have expressed concern about the feasibility of enforcing these new rules.  Retail workers will not be expected to enforce the rules, which does lead to the question of how these face covering rules will be adhered to day to day.  Just who will be in the front line then?
As a retail business, how do you protect your staff and customers from those refusing to wear a mask if realistically your staff or the police will struggle to enforce these new rules?  We at Envisage Security can help you!  Our professional, experienced security staff have been working hard throughout lockdown and are here to help you as your business gets back on its feet.  Our SIA licensed staff can be there to help you enforce the 'no mask, no entry' policy at your premises to minimise the transmission of Covid-19.
Crowd and Access Control
Envisage Security staff can provide crowd and access control for you – from checking whether everyone entering your premises is wearing a face covering to ensuring customers are maintaining the correct social distance.  As store customer capacity has now widely been reduced to ensure social distancing, businesses have introduced a 'one in, one out' policy which can lead to lengthy queues outside.  So, in effect, store staff must monitor and manage the following for everyone's safety:
Store capacity
Manage outdoor queues
Check for face coverings
That is a lot to ask of your employees, and they may lack the experience (and confidence) in dealing with these situations and any problems that may arise.  Envisage Security can relieve you of this burden and provide peace of mind with experienced SIA staff who can manage crowd and access for you – allowing you and your staff to concentrate on what they do best!
SIA-licensed Staff
Our SIA licensed staff hold a licence issued by the Security Industry Authority (a Governmental regulatory organisation for the private security industry).  These individuals have completed rigorous training and are experienced in dealing professionally with all types of situations (such as verbal or physical altercations) discreetly.
A current poll stated that 47% of the population believe that face masks should be optional (the reasons being wide ranging from feeling uncomfortable, not being able to communicate effectively right to some feeling it would be an infringement of their personal rights and freedom).  In light of this strong opposition there will be people breaking the new rules and endangering themselves, retail staff and innocent bystanders.  Envisage Security staff can remind customers of the rules and observe customers discreetly.  In the situation where a customer refuses to wear a mask, our security staff can enforce the rule and diffuse the situation should they become verbally or physically confrontational.
USDAW (the retail workers trade union) has reported that its members are already dealing with more abuse than usual and are concerned that the new face covering rules will put them at further risk.  All employees deserve the right to feel safe at their place of work – hiring our SIA staff will help to reassure them and ensure they need not fear any angry, abusive customers.
COVID-19 Trained Staff
All our staff receive regular training on COVID-19 protocols. As government guidelines are constantly being updated, so are our staff!  They are fully trained on hygiene and social distancing guidelines so they can keep themselves and others safe and reduce the chance of virus transmission.
To speak to one of our team, for more information or a quote please call 0844 800 0071.
What are your thoughts on the compulsory face covering rules?