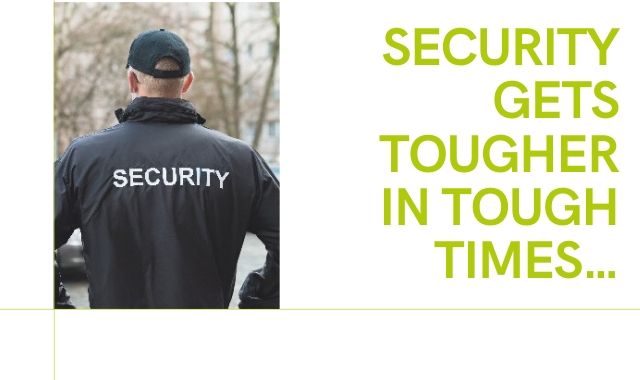 Security gets tougher in tough times…
Security gets tougher in tough times…
On the 4th July we saw pubs open their doors again and non-essential retail could start trading as of 15th June. Though admits the good news for many members of the public, there has been a vast impact to the retail and hospitality sectors which cannot be calculated as no one knows the true cost of the Coronavirus on the economy.
As we start to relax the lockdown in the UK we still have to keep our guard on retail crime The British Retail Consortium's (BRC) reported in March last year that retail crime is still on the rise up 12% as the cost of crime and prevention of crime was £1.9 billion. This is predicted to rise again this year in hand with the biggest forecasted recession since the 1930s.
It becomes more of a risk to leave your goods, assets and products unprotected in uncertain times, as people have less disposable income and many people being made redundant. A security presence to act as a deterrent to the people who are looking to commit internal and external crimes should still be on the top of people's lists, especially as there are many more benefits to hiring a Guard, CCTV or Door Supervisor.
Man Guarding
We have experienced and professional team members, who will proactively prevent crime being committed on your premises, this could be from fly-tipping to trespassers. As these crimes increased during lock-down, people were taking advantage of many places closed and even security being cut.
CCTV & Store Security
To keep an eye on your store, we can provide qualified SIA CCTV security to keep check on your cameras and even on your internal staff. The British Retail Consortium's meanwhile also reported that 115 members of staff are attacked a day in the retail industry, which our staff can keep your customers and colleagues safe. Meanwhile, during social distancing guidelines our staff can assist with maintaining and managing queues into your store, event, or premise so that everyone keeps safe.
SIA Door Supervisors
If you are providing a licensable service or good, such as pub, restaurant or outdoor event – we have a team of Door Supervisors with comprehensive skills that can provide a peace of mind security service, if it's working on the doors ensuring people are keeping their distance and counting people into the premise or patrolling sites to deter criminal activity.
The Envisage Security team are more than happy to discuss any of your security needs, if you have any questions regarding social distancing or where you might need a security presence.  Call us on 0844 800 0071 or complete the contact form below.