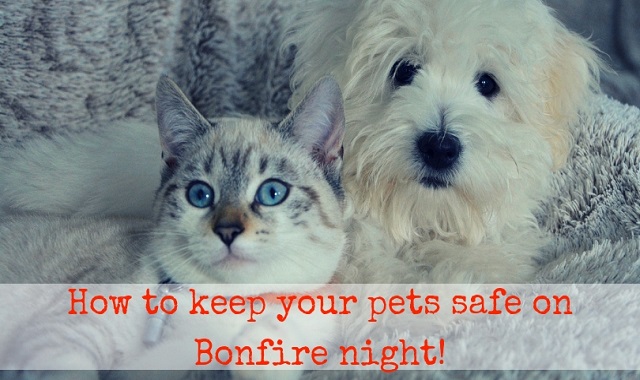 How to keep your pets safe on bonfire night!
How to keep your pets relaxed and safe during fireworks and bonfire night!
With Bonfire Night coming very rapidly, it is vital to think about our furry friends who may panic and stress at this time. Dogs, cats and many other pets, can get very anxious and stressed during this loud and hectic time, so it is always important to keep them safe and relaxed.
There is always a way you can help your beloved pets stay calm and remain there normal, happy selves during an exciting time of the year.
Planning beforehand is important when it comes to your four-legged friends at these events.
Dogs, however, can be far more difficult but there are many tips and tools you can follow and buy to try and ease their stress or anxiety.
The RSPCA claims that almost fifty percent of dogs in the UK are frightened by the loud sounds of fireworks. They recommend the Sound Therapy 4 Pets 'Sounds Scary' pack which can help teach your pets to handle loud noises.
Dogs – How to keep them calm during fireworks!
• Walk them during the day to avoid the fireworks at night
• Keep the windows closed and draw the curtains to cover the sound of fireworks
• Put on music or television so you don't hear the loud bangs of the fireworks
• Create a cosy area where your dog can feel protected and in complete control
• Make several, safe hiding places around your home
Cats – How to keep cats relaxed when the fireworks are banging!
• Create quiet hiding places in your home
• For cats, creating a safe place to hide in a quiet area if they need to is important. But if you can, try to avoid tempting them out of this area because can cause stress to your feline friend
• Make sure to keep cats inside because they tend to be more frightened outdoors
• Microchip your cats in case they're startled and get lost outside.