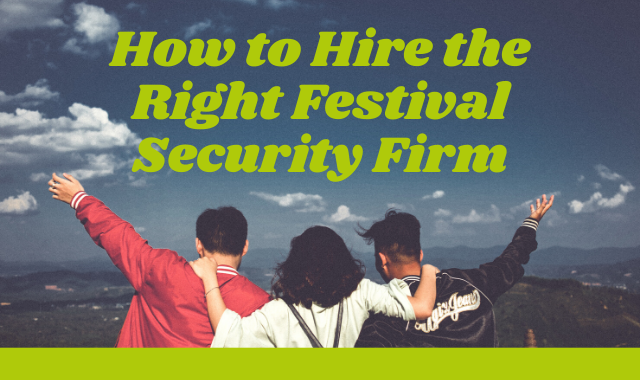 How to Hire the Right Festival Security Firm
How to Hire the Right Festival Security Firm
The arrival of spring heralds in the start of the festival season. From food festivals showcasing local producers to weekend-long music festivals, the chance to enjoy the open air, the company of good friends and great performances is an opportunity too good to miss. But, as a festival organiser, you will understand the need for effective and efficient event security for festivals.
But how do you choose the right security firm?
TIP 1 – Start looking months in advance
If you are planning a festival, meeting with and arranging festival security is a task you should look to complete sooner rather than later. What you don't want is a knee-jerk reaction to your event security needs, but a security company who can help you see the bigger picture.
Working closely with a festival security firm means that you have the right level and type of festival security.
TIP 2 – Choose a security firm that has experience of events like yours
There is a difference in providing close protection security, for example, and event security at festivals, just as security for private, smaller events is different again.
The type of security you need is one that is responsive and effective but can change and flow as the event changes too. For example, security teams need to be en masse at exit and entry points at key times but at other times, patrolling the perimeter is needed.
Choose am event security firm that you know has the right kind of experience when it comes to festival security because, to put it simply, you'll be relying on them to deliver what the event needs.
TIP 3 – Look for layers of event security skills
Security personnel should be able to provide a range of security services because, it's not all about standing still in pairs, at an entrance in a high-viz vest.
You'll need a festival security company who can provide;
• Crowd management
• Traffic management onsite
• Front of stage security
• Mobile and foot patrols
• Responsive teams in the case of emergencies, show-stop or evacuation
• Door supervisors
• Security guards
• And more!
Preferably, you want to hire the same firm to provide all the security services you need.
TIP 4 – Ask them about communication
Your festival could be spread across a vast area or it could be on a compact site – the truth is, if something is 'going wrong' over in one corner, it can feel like a long, long way off!
Communication is key to effective festival security.
Without it, security personnel are operating blindly. Festivals will often pass without major incident but, should something occur, you need to be confident that the company you are hiring have the right event security people in place with the training and means to respond in a professional and appropriate way.
Asking them about critical communications systems and how they go about it is therefore key.
TIP 5 – Look for a great track record
As well as official accreditations and SIA licensed personnel, you also want to hire the festival security firm that has a proven track record of being successful at what they do.
Being hired for other major festivals and events is a good sign, as are clients and event organisers returning to them to supply security at other events.
From small events to major festivals, our festival security teams will provide the security your event needs for it to be successful and safe. Call the Envisage Security Staff team to find out more!