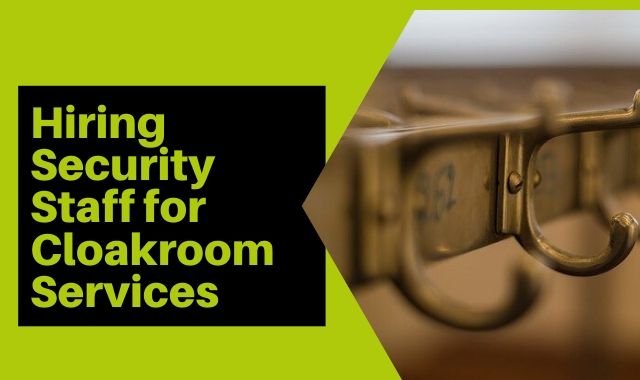 Hiring Security Staff for Cloakroom Services
Hiring Security Staff for Cloakroom Services
The cloakroom at your event is an important area. But what is it? And why should you hire event security staff for cloakroom services?
What is a cloakroom?
As well as describing a downstairs toilet in the home, a cloakroom is also a place at an event or venue where people leave their coats and luggage. For an event planner, the cloakroom is an important space.
The need for efficient cloakroom services has long with an issue that event organisers have battled with. In today's world, the need for a cloakroom that is staffed is even more important.
In response to potential threats of attack, many event organisers are no longer allowing audiences or attendees to take coats or large bags or luggage into an event. These have to remain in the cloakroom.
There are also issues relating to attendees smuggling in alcohol or drugs into a venue and so once again, the bag search by security staff is essential as too is the cloakroom area.
The problem with the cloakroom area
There are distinct challenges that event organisers face when it comes to the cloakroom area;
Lack of space
The cloakroom isn't making any money – it is a space people need to store their bags, coats and other items. Thus many event organisers don't want to take up prime space with an ever-expanding storage area.
The problem with an area that is too small is that it becomes crowded with items. A health and safety concern in itself, there is also the issue of the staff not being able to find items when customers want them back.
Staffing it
In order for a cloakroom to be efficient, it needs to be staffed. In some ways, you can predict when the area will be at its busiest – at the start of the event and towards the end.
It makes sense, therefore, for organisers to place a hired team of event staff in this area at peak times. What does cause problems is during the event itself? Do you leave one or two staff members there or leave it unattended?
Security
The problem with leaving it unattended is there is ample opportunity for theft. Most people will keep their valuables with them but not all. And there are, of course, items of sentimental value left in bags and coat pockets too.
Event security staff are there to keep everyone safe and to deal with and initiate evacuation and other emergency procedures are needed. They can also be hired for cloakroom services making sure that left items are safe and secure. They can also be the team that complete bag searches, something that is increasingly common and needed.
Hire security staff for cloakroom services for your event
Our event security staff are not only SIA licenced and trained but also have the skills needed to make sure that every aspect of your event, including cloakroom service, is safe and secure. Get in touch with our bookings team to find out more.