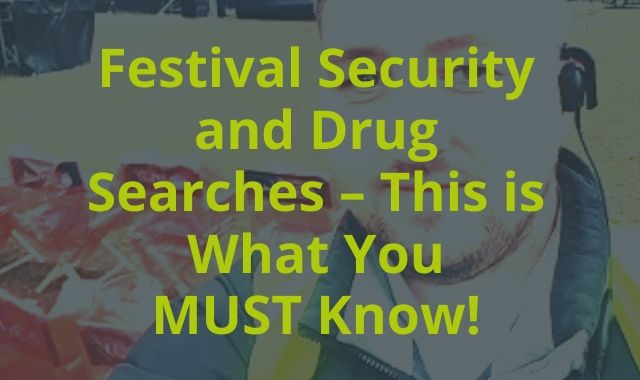 Festival Security and Drug Searches – This is What You MUST Know!
Festival Security and Drug Searches – This is What You MUST Know!
Drug use at festivals can bring organisers a whole heap of problems. It may be referred to as 'recreational use' but the effects of drug-taking on behaviour and people's safety, including festival security staff, make it a significant problem. So how do festival security staff meet the problem head-on?
Drug searches by festival security staff
Searching for drugs and dealing with the fall out is something that festival security staff are expected to handle. Whether or not you do drugs, whether you think they are bad or not, there are legal and safety issues and responsibilities that staff need to keep at the forefront of every search that they do.
Searching is often a condition of entry to festivals, especially music festivals. Event security staff, festival-goers and organisers have an expectation that there will be drugs at this kind of event, a sad indictment but a fact of which we need to be aware.
Stopping drug use is nigh-on impossible but keeping people safe is what drug searches are all about.
·        Personal searches
Festival security staff must know the limits of personal searches
As festival security staff, you are to be responsible for actions at all times, even when searching people and you believe this is for the greater good. You CANNOT;
'backhand' search breasts or buttocks
search under clothing
touch genitals
run your hands on the inside of people's legs
But, you CAN;
It is not a legal requirement that women, girls and people identifying as female, are searched by a female BUT it is the moral and ethical thing to do.
·        Bag searches
People should be asked to empty their bags or use a visual search. If you suspect the person has drugs in the bag or are hiding something, you need to take care as to how to continue to deal with the situations
·        Under 18s
Anyone under the 18 is, in law, a child. Festival event security staff are expected to deal with children and young people in a responsible and ethical way. Hiring professional security staff means hiring people who are trained with an SIA licence as well as a full, clear disclosure certificate issued by the Disclosure and Barring Service (DBS).
·        Know your drugs!
The recreational drug of choice seems to change from one generation to another. But a lot of which drug is 'in vogue' depends on the price of it: the cheaper a drug is, the more available it is.
Other 'modern' drugs such as poppers and spice are also causing difficulties and so as festival security staff, you need to know what you are looking for. Would you know what a popper looks like or a wrap?
Making your stance of drugs clear
As a festival organiser, you need to make it clear to your audience drugs will not be tolerated and, if they are found on them, in their bags or gear, that they will be reported and not permitted entry into your event.
It may be almost impossible to stop the growing tide of drug use but we can take a stance against it, making festivals a safe place for everybody. Including you.