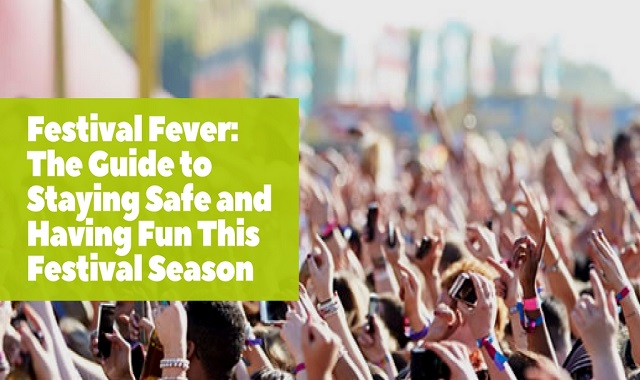 Festival Fever: The Guide to Staying Safe and Having Fun This Festival Season
Festival Fever: The Guide to Staying Safe and Having Fun This Festival Season
For many young people, the summer festival season is a right of passage and one that many of us have very fond memories of. Festivals, of course, are not just 'for the youngsters'…
From experienced festival goers to people enjoying the relaxed, laid-back atmosphere, great company and fantastic music and performances, the festival should be a great experience.
But at each festival, thousands of pounds worth of possessions are stolen or lost. There is a darker side to festivals but, you can have a happy and safe time with these hints and tips from the team at Envisage Security Staff.
PERSONAL SAFETY
• Avoid binge-drinking – you may enjoy a glass or two at the weekend but if you start drinking when you arrive, you may find that within a few hours you are hardly alert, never mind alert to personal dangers around you. And it's a sad fact that there are people out there who spike drinks too, so keep your plastic glasses and bottles close.
• Know your way around – before the festival gets in full swing, locate the loos, the first aid area, the food stall, the bar and camping zones so you know your way around.
• Your own first aid/rescue kit – from regular medication to painkillers to antihistamines, a small personal first aid can prove useful.
• Stay hydrated – with inflated prices at the bar, you don't want to be spending your budget on water. So make sure you have water to hand because dehydration is your worse enemy.
PROTECTING POSSESSIONS
• Leave valuables at home – it seems a shame, you bought the Go-Pro just for such event but unless you know you can keep a very close eye on them, leave high-value gadgets and gizmos at home.
• Sleep with your valuables – any valuables you do take with you should never be left unattended. Opportunist thieves will take advantage while you sleep so stuff valuables in your sleeping bag, down by your feet.
• Take a torch – of all the gadgets that are a must for festivals the torch is the one thing that you will surely need (but probably the most forgotten).
• Don't lock your tent – it may sound a good idea, but there is a school of thought that suggests by locking your tent, thieves realise that you have something of value.
FESTIVAL CHECKLIST
For your festival going days to be a success, you need to be alert and stay vigilant but there are also some festival essentials that you will need;
• Waterproof phone case – a good quality waterproof phone case is essential for protecting your phone from rain, puddles and spilt drinks…
• Tent finder apps – there are all kinds of apps that help you find your tent, but a large, distinctive flag also works a treat!
• Portable phone charger – from a battery bank to a wind-up gadget, keeping your phone battery topped up can be tough in a field but there are means of doing so!
• Essential items include waterproofs and sun cream, tickets, sleeping bag, tent, torch, a pillow and blankets and a camping chair.
•
Which festivals will you be attending this coming season?