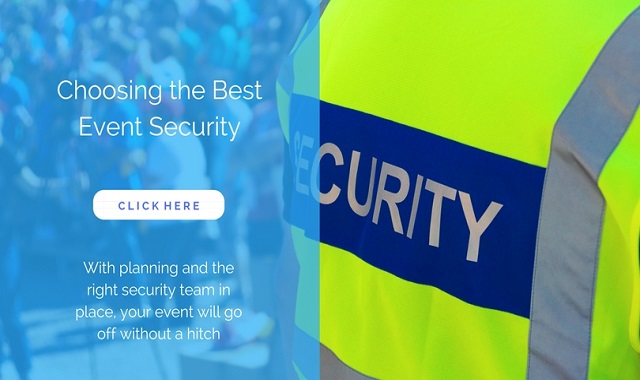 Choosing the Best Event Security
Choosing the Best Event Security
Let's admit it – it's a big deal that your event goes off without a hitch. As part of the planning process, you will no doubt look at what could go wrong and the solutions. Security is a key issue and one that needs to be right.
But choosing the best event security can be a leap into the unknown. There are a large number of event security companies, all professing to offer the best in security services for any event.
And so, this begs the question, how do you get the best security for your event so that your guests are talking about it for the right reasons for months to come?
#1 What type of event security do you need?
When we work with clients, we take time to look at what their event is because, if we understand the event, we can provide the right security solutions.
There are all kinds of different security 'types' from dog patrols to static security guards, to plain-clothes staff circulating with your staff, drug detection teams and more. But there are other personnel too, who are considered part of a security detail at an event but are often overlooked. What about car park attendants, for example, along with valets, door supervisors and crowd control experts?
#2 Where is the event?
From large outdoor music festivals to indoor conferences and exhibitions, the venue plays a big part in the type and level of security you will need.
From private parties at home to sporting events at stadiums in the heart of London, understanding the event venue 'terrain' is essential for a security company to provide the right kind of security tactics can be employed.
#3 How many people are attending?
The ratio of guests to security staff will vary depending on the event, the venue and what will happen there. It is important to get the right balance – too few and disruption and problems may not be spotted early and resolved. Too many security personnel and it can look like you have taken a heavy-handed approach.
#4 Which security companies do people recommend?
Recommendations are important in any line of business which is why security companies will do their utmost to create and nurture a positive reputation. Security solutions should never be 'off the shelf', so avoid any event security company that provides a quote without asking key questions about what, who, where and when.
#5 What event security services do you need?
Security is part and parcel of an event running smoothly, but if you don't have the right approach will you get the result you want?
In some ways, understanding why you need security is part and parcel of getting it right. Do you need close protection, for example, for VIPs attending your event? Do you need a patrolling security team, or do you need a combination of services that includes plain-clothed security staff mingling with your attendees?
Only SIA licensed security companies
If you do nothing else, never hire a security company or even a private individual who is not SIA licensed.
The Security Industry Authority (SIA) is the body that regulates the private security industry in the UK. They provide a range of training opportunities and someone who holds a license – all our security personnel are checked and verified as SIA licensed – will know how to diffuse and deal with all kinds of incidences.
Any member of a security team will avoid using physical contact as much as possible but when it is needed, it must be delivered with 'reasonable force'. But you don't want this and that's why choosing a company with a proactive approach to security is the better move.
And that means choosing one who adheres to the SIA way of doing things.
With planning and the right security team in place, your event will go off without a hitch.