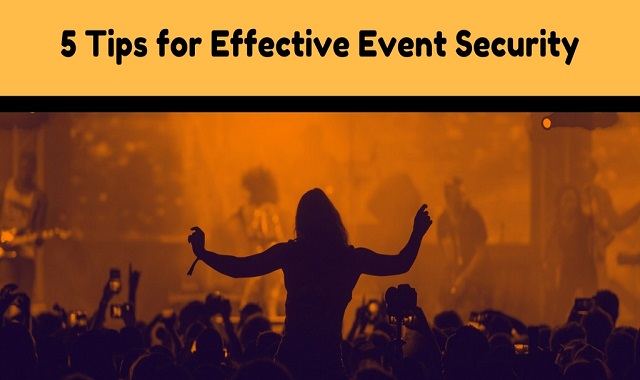 5 Tips for Effective Event Security
5 Tips for Effective Event Security
Living in a troubled world, the threats that we now face are potentially meaning that event security is no longer optional, but a compulsory part of planning a safe event.
From exhibitions and trade shows to fantastic music festivals and gigs, to private parties and corporate VIP events, security needs to hit the mark. But what can you do to keep your guests safe and your event trouble-free?
#1 Choose the best venue
When it comes to choosing a venue, keep security in mind. A good venue will have emergency strategies in place – most major venues have increased security planning and provision significantly in answer to the threats events and venues now face.
They may also have made improvements to their venues such as improved signage, emergency exits and lighting, and better access for the emergency services as well as employing their own security team.
Outside venues take a little more effort in terms of security and patrols. You need to be clear in your security planning how the perimeter will be secured.
#2 Conduct a security assessment
The level of perceived threat will depend on the type of event you are hosting, who will be attending and so on. High-profile events with celebrities and other prominent figures present more of a security challenge than private parties.
But even with the level of threat 'known', a security assessment will highlight weak areas in your plan. Robust security measures can be put in place, along with contingency plans, an important factor in all event plans.
Ask yourself key questions such as how will uninvited guests be dealt with or what happens in the event of a technology failure?
#3 Brief your team
Communication is key! A breakdown in communication underpins every failure of an event. In a security team, personnel will often be assigned specific roles but more importantly, they will understand what their role is in the event of a security breach.
For example, if there is a need for mass evacuation, which exit are they to staff? Who will liaise with emergency services? How will you keep security staff safe?
#4 Screen all guests and staff
It is a sad indictment of the times in which we live but attendees, guests and event participants will expect to be screened as they enter a venue.
From checking bags to scrutinising tickets, your security team need to be clear and confident about screening guests and staff. It really is a case of 'if your name's not down, you're not coming in' – and no exceptions!
For staff, a visible means of identification such as name badges or security passes should be displayed at all times.
#5 Hire a professional event security company
To ensure that your event is really safe, hiring a professional event security company is critical.
In effect, a company with serious security credentials will do all this for you. If you have already booked your venue, they will work with this but why not include them right from the start?
They can perform a detailed security assessment, as well as provide SIA licensed event security staff. Fully insured, they will create a bespoke package of security services from patrolling the grounds to vigilant front-of-house staff.
Envisage Security Staff are an established event security company working with corporate and private customers across the UK. Possessing a wealth of security experience, we provide a comprehensive range of show and event security services.