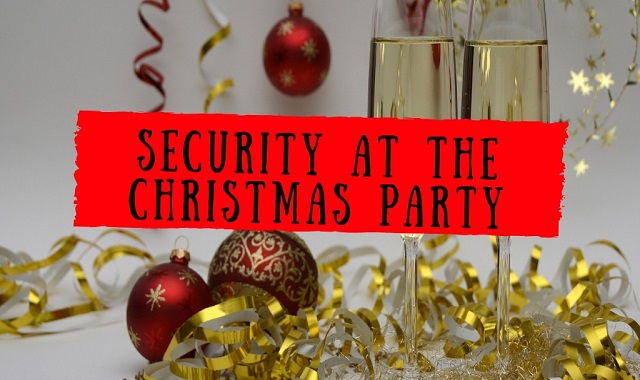 Security at the Christmas Party
Security at the Christmas Party
Another year has flown by and the Christmas works do is in the offing. You don't have to travel far on the internet and social media to find toe-curling stories of embarrassing office party gaffes.
From dodgy dancing to drinking far too much, there are many hilarious antidotes of what not to do at the office party.
All joking aside, there are instances in which less savoury things happen at the Christmas party. From gate crashers to punch-ups, we give you the low down of why security at the Christmas party is a must.
1. "You're not coming in"
If your name isn't on the list, there is no entry and for the larger Christmas do, gate crashers are a real concern. Whether you are holding your works do at a local bar or holding a corporate event at a bigger venue, people who gatecrash do so with one thing in mind: to cause trouble.
Taking advantage of your hospitality, the cost of the trouble uninvited guests cause can rack up, as well as a tarnish on your business's reputation.
The solution is to play it safe and have uniformed, SIA licensed door staff for supervising who is coming in and out.
2. "Houston, I think we have a problem"
After a drink or two, dancing on a pyramid of tables or swinging from the chandeliers can seem like a really good idea…
Harmless fun it may be but with alcohol lowering our inhibitions, it can lead us to do things that are unsafe. Avoiding injury is more likely after security personnel have had a little word in someone's ear.
Our Christmas party event security staff are all trained experts, with more than one way making sure people have fun but without people being hurt.
3. "Don't push it…"
Alcohol and other recreational substances we know, lower our inhibitions. For most of us, that means we act silly, say daft things and indulge in general merriment and mischief-making.
But loose lips and a sharp tongue backed by the Dutch courage of alcohol can lead to an exchange of words as well as fisticuffs and trading blows.
No one wants their Christmas do ruined by waking up the next morning with a black eye, the remnant of a nasty row and possibly a caution for public disorder or affray.
Security staff at the Christmas do quickly intercept when they see that a conversation is getting out of hand and stop blows from being traded. Situation management is all part of the service.
Responsive Corporate Event Security
There are times when the Christmas party can descend into chaos as a result of outside influences and issues.
Again, with alcohol a factor, asking people to make rational decisions is tough and thus, an experienced security team are the people you can rely on to make sure that the situation is dealt with appropriately.
* Emergency services and rapid response – from first aid to calling in emergency services, there have been instances in which a serious situation at a Christmas works do has needed a formal response from the emergency services. A security team at your corporate event ensure that everyone is safe, with security officers offering an effective first response.
* A plan – we work with many corporate clients on all kinds of events, including Christmas parties and other corporate social events. We can make sure that your event is safe with health and safety being followed, as well as event security compliance.
The Christmas works do should be fun, fun, fun and it can be, with security staff keeping everyone safe.