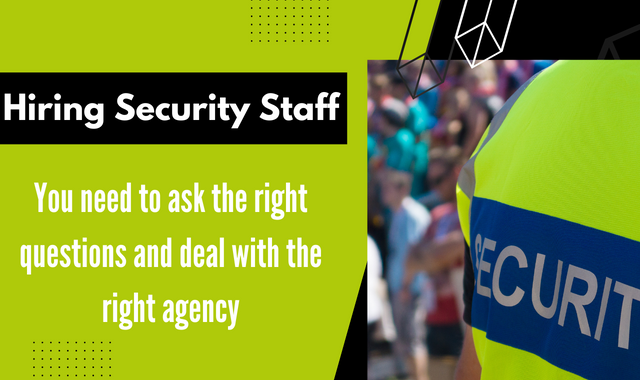 Hiring Security Staff?
If you are looking for security staff, then you need the best. To do this, you need to ask the right questions and deal with the right agency.
So what are the questions that need answering?
• What type of security staff are you seeking?
• Do they need to be mobile, roaming around a site? Or do they need to be focusing on CCTV, entrance/exits, checking people in and out?
• How can you make sure the agency is providing the best staff?
• What makes one company better than anyone else?
What questions should you be asking when you approach an security staffing agency?
Start at the beginning. Identify exactly what you want.
Research some agencies and compare what they offer. Look at their qualifications and the professionalism of their staff.
1. Find out if the security staff are local
Local staff are a definite advantage when it comes to security provision. At Envisage we only deal with local staff. We recognise that it is important to have people on site who know the area, who do not have problems trying to locate you or have to travel long distances. Our local staff will know the venue and will be familiar with your company.
2. Who do I deal with?
We like to get to know people so that we can make sure we are providing the ideal staff every time.
Every client is allotted a manager, someone with you can talk to every time. That person will know your business, will know all the details of your event and requirements and be responsible for every aspect of the booking.
3. What's your reputation? Do you only do security?
At Envisage we provide a range of staff, dealing with all aspects of events from promotional staff to event managers as well as security staff. Envisage Security Staff is our specialist branch, which focuses purely on security requirements.
All our security staff are professionally trained, licensed and fully insured. They are experienced and know exactly what they need to do, and can deal with any emergencies that occur.
4. Check out our reputation by looking at reviews
Ratings and social media such as Linked In and Instagram.
Ask us for references – we will happily provide you with contacts among previous clients and examples of work we have undertaken in the past.
5. Check your gut instinct – does the agency feel right to you?
Are they providing the answers you want? Do they provide the right help, information and attitude from the moment they answer the phone? Is the company licensed and insured?
Envisage meets all those requirements. With over 20 years experience, we guarantee perfect service without any overcharging. When we accept a booking, your cost will include:
• 24 hour back up
• A guarantee
• Full insurance
• All staff expenses
• All staff costs
• Ågency costs
There are no hidden extras – just service with a smile!