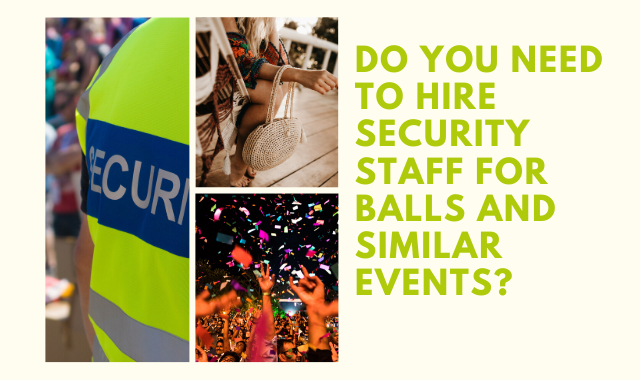 Do You Need to Hire Security Staff for Balls and Similar Events?
Do You Need to Hire Security Staff for Balls and Similar Events?
From a charity ball held during the summer to a glittering festive event, when people sign up for your event they have expectations everything has been done to deliver on the promises you have made. Hiring security for balls and similar events is a must. But what does it look like?
Event security with a difference…
… but delivering the same results! Security at balls, including school leaver balls, graduation events as well as summer balls and charity gatherings, will all benefit from security staff.
PLANNING
How big a security team is needed?
Event security needs to be at a level that ensures your event is safe. Too few and should something go wrong, there will not be enough trained people on hand to deal with the situation. But too many and it can look like overload.
We can help you determine the right number and type of security services you need for your ball or any other event, in fact.
Emergency procedures – All events, whether they are paid events such as a ball or a free-to-attend event, need to have an emergency protocol in place. It answers the questions such as what happens if you need to stop 'the show' or evacuate the premises? Where will people park? There will many issues you will need to find the solutions to.
Static and patrolling
Every event has different security requirements and when this is the case, you need a mix of security services and response. For example, you may decide on static security personnel who stay on entry and exit points throughout the event, along with people patrolling the perimeter or similar.
When you understand the security requirements of your ball, you can plan the type and level of event security needed.
ON THE DAY
Dress – What wil the security staff to wear?
We often have a vision of security staff wearing a uniform, complete with high visibility jacket or vest. Whilst this visibility is required in some cases, for your event, you might want to take a different approach.
Some event security staff could wear high vis clothing, whilst others wear suits and the like so that have a smart but understated appearance. They will need to wear their SIA licence on their arm or have it visible in another way as per the SIA guidelines for door and event security staff.
The last thing you need when people turn up to you high-class ball this summer or Christmas are two 'bouncers' wearing yellow!
Security services
On the day event security services will be set out in your event security plan, as well as when you hire an event security team. For security reasons, your team will need to check bags as well as offering effective and efficient cloakroom security.
Hire the right event security staffing team – call us!
Hiring the right event security staff is important for the success and professional impression of your event. To hire security staff for your ball, call us on 0844 800 0071.