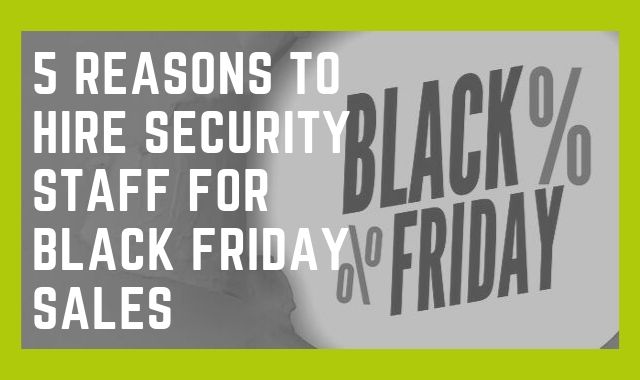 5 Reasons to Hire Security Staff for Black Friday Sales
5 Reasons to Hire Security Staff for Black Friday Sales
Black Friday, an idea that originated in the US, has become one of the most important days in retail. In the run-up to Christmas, UK shoppers are expected to spend around £2,000 with a large chunk of this on Black Friday and Cyber Monday deals. In fact, November sales can outstrip December retail sales in the UK. But why is additional security a must for Black Friday retailers?
#1 Professionalism
Clearly, hiring security staff is an attempt to reduce loss through theft. But with crowds of shoppers also expected at stores throughout the UK, consumer and staff safety is an issue too.
Hiring additional security staff for your store means you are hiring trained, professional and SIA licensed staff to reduce theft but also promote safety during a potentially very busy period.
#2 Prevent shoplifting
Shoplifting is always a threat to your business at any time of year but during busy sales periods like Black Friday, it can be surprisingly easy for people to take things without paying. With so much noise and movement on the shop floor, along with more items than usual and a less-than-tidy store, the chances of being able to take something and leave without paying becomes easier.
Shoplifters count on this and so by security staff patrolling your store, you have an expert set of eyes of someone trained to spot and stop thefts.
#3 Queue management
Black Friday sales can present a unique opportunity for consumers to buy goods at knockdown prices. This is across the board but for electrical and the latest tech items, the deals can be too good to miss.
So it's no surprise to see long queues forming as eager shoppers wait for the doors to be thrown open. But with a crowd, you get a crowd mentality and people who are ordinarily law-abiding and polite take on a different character.
Security staff can manage queues, spotting signs of problems and dealing with them but can also engage people in conversation, keeping the waiting throng of shoppers happy while they wait.
#4 Safety
It's worth labouring the point about safety – just take a look at what can happen when shop doors are opened on the Black Friday – and you can appreciate that many retailers have serious concerns regarding staff and consumer safety.
Altercations can and do happen. Dealing with these is difficult and with police numbers and resources stretched to the limit, you may find yourself 'on your own' should something like this happen.
Hiring security staff for Black Friday sales means that these kinds of difficulties should be minimised as a result.
#5 Emergency response
We've already hinted at just how stretched police forces are across the country and the same goes for the ambulance service too.
Security staff will have a range of skills, including first aid and how to response in an emergency situation. With more people on your premises, you need to be confident that should there be an issue such as a fire or a terrorist incident, you have the professional and trained security staff on hand to evacuate the building and help people.
Hire professional, SIA licensed security staff for your upcoming Black Friday sales from us – call to find out more 0844 800 0071!