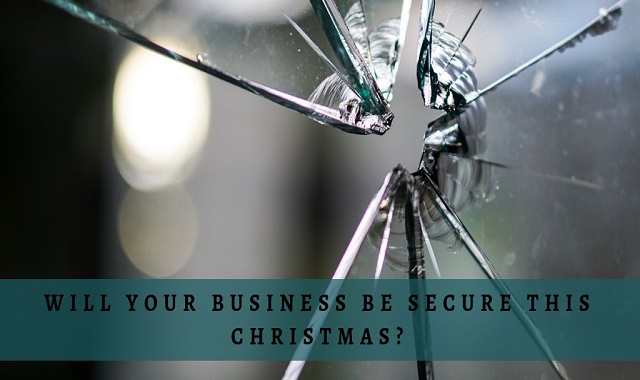 Will your business be secure this Christmas?
Will Your Business be Secure This Christmas?
The festive season holds a magical allure all of its own but for businesses large and small across the UK, it is a time of year that brings added pressures. One of which is the worry of extra security measures.
How profitable is Christmas?
For retail businesses, the run-up to Christmas is their busiest time of year. Last year, in the six weeks before Christmas, over £78 billion were put through retailers tills in the UK, a figure that includes food and non-food items. Whilst a busy store or shop helps swell your profits, it may give you a security headache.
And we tend to socialise more over the festive season too. The hospitality industry is busy with pubs and restaurants welcoming office parties and family Christmas gatherings.
Have you solved your business security headache?
No matter what industry you are in, Christmas can pose extra pressure and security pinch points a business wouldn't normally experience at other times of the year.
From larger cash sums in the till to safeguarding your premises and staff with late finishes and early starts.  You need to consider additional security throughout the festive season.
Why security is important at Christmas?
Crime at Christmas is not uncommon;
* Burglary – burglary of business premises is not uncommon but with potentially more spoils on offer, thieves are more likely to take a chance.
* Robbery – again, with potentially more on offer, thieves who steal from people, such as pickpocketing or by force, is common over the festive period.
* Theft – last year, police recorded over 320,000 shoplifting offences, a trend that is increasing year on year.
All of these crimes present a serious issue to your business. There is the financial cost of losing stock, the time spent dealing with insurance claims, effects that can last for several months after the event as you recuperate the losses.
Some or most of the crimes that affect a business could be avoided or minimised with additional security.
Wide-ranging security solutions
Investing in business security solutions is far better use of business time, money and resources than attempting to recuperate loss from theft or from damage and vandalism.
The more security solutions and options your business has, the less likely a target it is for would-be thieves and criminals. For example, thieves are opportunistic – the more effort they have the make, the less likely they are to try.
There are many solutions;
* CCTV – the quality of CCTV images are such that they capture evidence that can be used in prosecutions but when it is visible, can act as a deterrent to shoplifters and burglars.
* Security guards – a visible security presence is essential, especially in high-value areas of your store such as the alcohol aisle in a supermarket.
* Plain-clothes security – just as important is covert security, with SIA licensed security guards mingling with shoppers. This way, suspect behaviour can be picked up, CCTV directed towards suspects as well as moving the visible security guards into certain areas.
* Patrols – essential for when your business is closed, security patrols can make a difference to whether your business is a target for thieves and vandals, and not just at Christmas.
How we can help
We have the experienced, SIA licensed security personnel for hire by businesses anywhere in the UK. From temporary security guards to door staff, we have the security personnel and services you need.