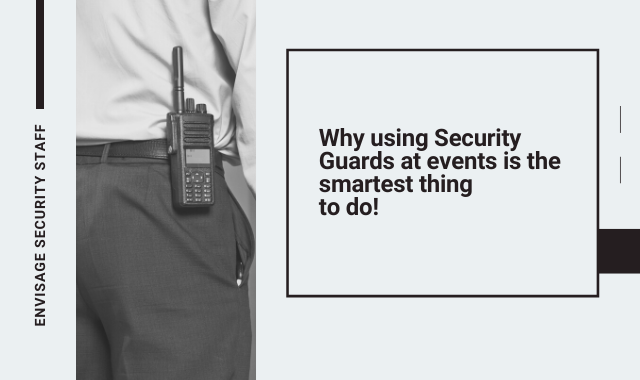 Why using Security Guards at events is the smartest thing to do!
Why using Security Guards at events is the smartest thing to do!
Ensuring the security and safety of guests is paramount at every event, no matter how big or small. From a business conference to a community meeting, a society wedding to a festival or concert, having groups of people mixing together always entails some risks. There may be gatecrashers, excess drinking, protests or unexpected hazards caused by fuses blowing or smoke detectors sounding. Having visible security on site creates an immediate feeling of safety and security for every attendee, enabling them to enjoy the event while deterring potential troublemakers.
Taking security concerns into your forward planning is essential. The advantages are all too numerous.
Stopping Gatecrashers
Highly visible security guards act as a deterrent to gatecrashers. Many potential gatecrashers will think twice before trying to enter an event when they see security guards on the premises. The security guards also ensure that any uninvited guests leave quietly and quickly.
Security Staff for Crowd Control
No matter how well organised an event may be, the unexpected can happen. There may be a fire, a flood or worst of all a terrorist act. Events organisers need people at hand who can be relied on to immediately react to problems and ensure visitors leave quickly and safely via the nearest exits. Fully trained security guards who are licensed to cope with the unexpected will remain calm and react positively to any situation.
Security Guards can be a Venue Requirement
Bear in mind that some venues insist that there is a security presence at all events, especially if alcohol is being served. Well-trained security staff will take care of any inebriated guests.
Personal guest and staff security
Darkened car parks can make many guests – and staff – uneasy about returning to their cars in the early hours of the morning. Such worries can affect their decision to come to an event, or to leave early. Having security staff on hand to accompany guests and see them safely into their cars will make a difference.
Providing good, high quality security staff at every event is a definite bonus. Apart from acting as a visible deterrent for potential troublemakers, it makes guests feel safer. They are more willing to come to your event because they know it is going to be safe and secure. Above all, the presence of security staff shows that you, as the organiser, care about the safety of staff and guests.