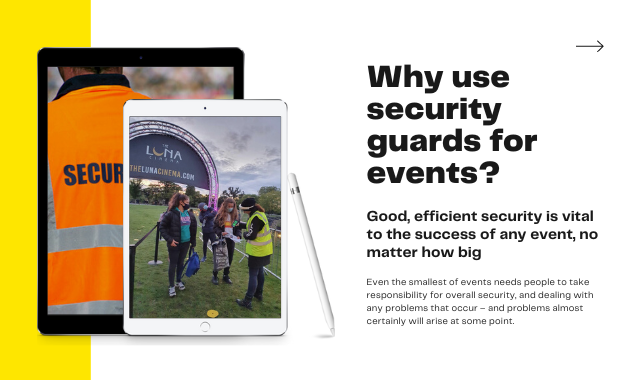 Why use security guards for events?
Why use security guards for events?
Good, efficient security is vital to the success of any event, no matter how big. Even the smallest of events needs people to take responsibility for overall security, and dealing with any problems that occur – and problems almost certainly will arise at some point. It may be just lost children, or too many people trying to access the car park while there is always a risk of theft, fire or damage occurring.
Marshals and Stewards
Having a group of trained Marshals and Stewards on the premises of any event will make a difference. You can rely on them to deal with the basic day to day security issues and tasks such as building security, checking tickets, monitoring numbers, manning entry and exit points, organising the car parks. They can deal with any emergency situations that arise, for example guiding people to safety if a building or site has to be evacuated.
If a building is being used for the event, you may be required to provide security, ensuring there are no fire risks, and the safety of all people present. Regular checks will have to be undertaken around the building so as to provide visible security, CCTV may have to be monitored, and areas off limits to participants have to be clearly identified and monitored.
The number of marshals and stewards required will vary according to the size of the event, and the location. Check with the venue especially if it involves a building to identify minimum numbers. Having more marshals and stewards than are laid down in any regulations is wise – you never know what might occur.
Whatever the event, marshals and stewards need to be easily identifiable. Wearing high visibility jackets is a useful way of providing that identification since it makes them easily seen, especially in an emergency. Visitors immediately know who will provide help and information if a problem occurs. When working in a large car park, the presence of high visibility jackets ensures drivers can be easily directed towards appropriate exits as it makes personnel stand out.
Train every marshal and steward before the event, making sure they are completely familiar with the site and know what to do in an emergency.