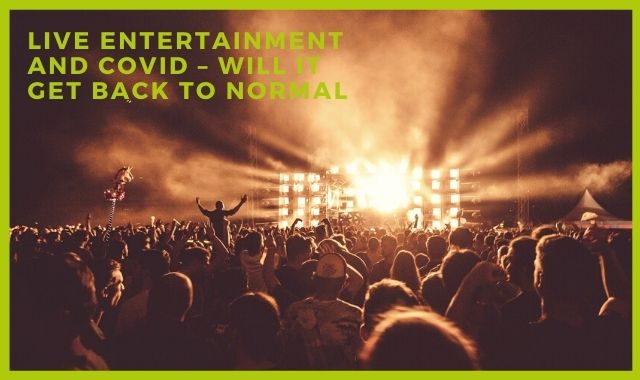 Live Entertainment and COVID – Will It Get Back to Normal
Live Entertainment and COVID – Will It Get Back to Normal
Gigs and concerts, along with dance performances may start small but with social distancing maintained, it shows that it is possible. The pandemic has left not part of life or any industry untouched. There are winners and losers in every situation like this, but one big loser has been the live entertainment industry. Since March, venues from regional theatres to major venues have been effectively shut. But there is a glimmer of hope but with social distancing measures in place for the foreseeable future, will the live entertainment industry ever get back to how we knew it?
Social distancing can be difficult in even the biggest spaces. In recent weeks, we have seen how the consumption of alcohol contributes to social distancing rules not being followed.
The same is also true for live entertainment, especially music gigs and festivals. Carried away by the music, staying 2 metres apart from others will soon breakdown. Add to this the confined space of being indoors, and you can see why authorities have been reluctant to open live event venues.
But one recent performance has shown it is possible.
Over 2,000 concert-goers enjoyed a live music performance at the pop-up Virgin Money Unity Arena in Gosforth Park, Newcastle. Social distance was maintained with a range of tools, including 500 individually raised platforms that ensure the 2-metre ruling was followed.
Social distance needs to be maintained at all times, not just during a performance. How was this achieved?
With people isolating in bubbles who were attending the event were asked to arrive together. With tickets bought online, guests were asked to show their tickets to security staff. Arrival times were also staggered.
Again, entry of people was also staggered, with crash barriers and security staff on hand to ensure groups remained separate. Bags were also checked by security.
Food and drink were pre-ordered with security staff on hand to ensure that distancing measures were maintained and that people were able to collect their orders in good time.
Once the performance started, people were not allowed to leave their pods, unless people needed to use the bathroom. One-way systems were introduced with security staff maintaining the systems so that everyone was safe.
Another area of concern was when the performance finished. There would normally be a mass exodus for the doors, with everyone trying to move out of the venue at the same time. With groups in pods, they were released from their platformed areas and were told to follow a pre-designated route. This allowed for constant movement out of the area without queues.
Effectively identifying pinch points
This live event worked due to reduce numbers but also effectively recognising the pinch points of live events of this kind – the entry point, mingling once in the performance area, moving around and what happens when the performance is over.
Key to the success of the evening was the high number of trained and professional security staff available. Maintaining the flow of people was their main responsibility of the evening, along with the usual security checks such as checking bags along with crowd management.
Gigs and concerts, along with dance performances may start small but with social distancing maintained, it shows that it is possible. Maybe this means that the pantomime season will go ahead…?
For more information
To discuss how Envisage Security Staff can help your event, call us on 0844 800 0071.