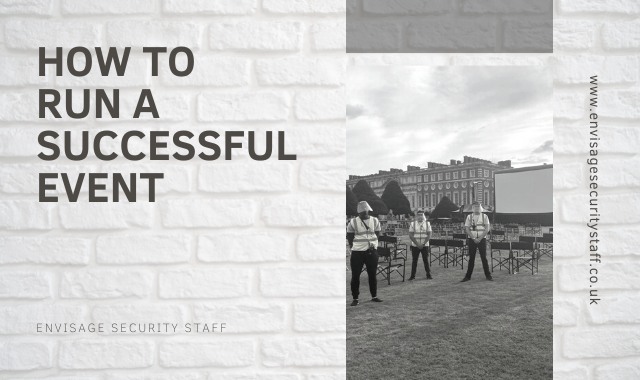 How to run a successful event
How to run a successful event
Planning an event, festival, conference or exhibition? Careful preparations are essential in this post-Covid world.
Have clear objectives
Make sure you know exactly why the event is being held and just who you are targeting. Be focused at every point. Have a clear objective such as raising consumer awareness of a product, attracting new social media followers or generating income. Having systems in place to assess the results of the event is equally essential so as to ensure you have met your targets.
Have the right people in place
A good team with the right skills is crucial to success. Planning an event is hard work and there is a lot of detail to be covered. Security has to be one of the prime considerations as security staff and marshals are needed to monitor visitors and deal with any problems that occur.
Book a really good staffing agency like Envisage who can provide reliable, fully vetted staff who know exactly what they are doing. This means you can tick that task off the list, because you will know your security is provided by professionals.
Have a clear budget
Set your budget at the beginning and keep a close eye on accounts. Identify all potential expenses and allow for the unexpected – it can happen! Identify too every potential source of income and just how much this will reach.
Without a budget, it is very easy to overspend for example when paying performers, then finding you suddenly have to reduce the cash available for other functions like catering.
Have a clear event style
Make sure that the style of your event matches objectives and budget. Planning a big mass market, public event or festival is very different from a small, carefully targeted event. Will it be themed? Will you be needing speakers or hands on activities for children?
Remember to discuss the type of security needed for these varying types of functions with your security company.
Timing and Venue
Choosing a venue and setting a time is crucial. It is important to match your audience requirements, and doesn't clash with any similar event in the locality. Choose times to suit your visitors.
An event designed to attract students and young people would not work if held on weekdays during term time! Remember to factor in the costs of your venue, and make sure that it can cater for your security needs.
Logistics
A clearly defined organisational structure is essential. The bigger the event, the more complex it becomes. You need to make arrangements for parking, disabled access, equipment, payments and be prepared for the unexpected such as bad weather or equipment failure. Having microphones failing in the middle of a concert with no backup equipment or engineers at hand can be disastrous.
Consider Covid requirements – situations can change rapidly.
Always seek professional help. Using security professionals from a company like Envisage means that they can deal with all practical security, help with planning and health & safety advice.
The Big Day
Check in with your security team and stewards at regular intervals. Be prepared to deal with the unexpected. Relax and enjoy the event!