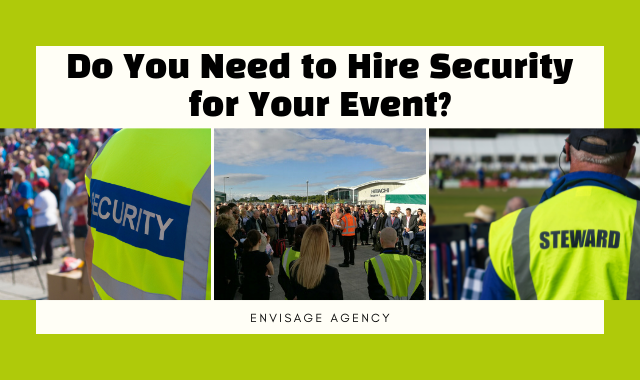 Do You Need to Hire Security for Your Event?
Do You Need to Hire Security for Your Event?
As event organiser, it is your duty of care to make sure your guests are safe. Different events require a different security response, and that means making sure you hire the right event security.
Security for private parties including 18th and 21st birthday celebrations
Celebrating a birthday with family and friends should mean everyone has a great time. But clashes of personality, fuelled by alcohol and in some cases, longstanding issues and problems between people mean that there is potential for it to turn sour. If it does, it quickly does so.
Private party security isn't always needed especially if you are hosting your party at a public venue who have their own team. That said, some venues insist that hosts hire party security for 18th birthday parties and such like. If you are hosting your party at a private property, security can be effective in not only looking after people but property too.
Wedding security
There are hundreds, if not thousands of stories of punch ups at weddings. Emotions are running high which, when combined with alcohol, can lead to an unpleasant turn of events.
Wedding security means your day runs smoothly, with potential flare-ups spotted early by experienced SIA licensed staff.
As well as spotting problem signs early and acting to smooth out proceedings, wedding security personnel will make sure there are no uninvited guests at your nuptials, will liaise with venus staff in the event of an emergency and offer first aid, if necessary. They can also keep an eye on gifts, the theft of which is not uncommon, sadly.
Event and conference security
Moving into the corporate world of events, it always pays to have event and corporate security on hand, no matter how big or small your event. From the office Christmas party to conferences, licensed event security staff can keep uninvited guests out, lead on evacuation procedures and provide first aid too.
Some corporate clients understand that the main risk to their event is disruption by activities, especially if a conference or event is based on a sensitive or emotive subject. Event security staff safeguard your event, without using unnecessary force or violence.
Sporting event security
Organising sporting events comes with specific responsibilities relating to the health and safety of those taking part, as well as spectators. As well as security staff, you'll also need other important security roles filling too such as marshals and stewards. As well as health and safety responsibilities, you'll have first aid needs too, all of which can be covered by event security staff and marshals.
Some sporting events come with additional pressures. For too long, football was marred by spectator violence but thankfully today, this has changed. BUT, there are still fans who arrive at sporting events intent on causing trouble.
A swift but professional response from security personnel is essential. With additional measures such as CCTV, visible security staff with an impressive presence sends a clear message to those intent on causing disruption.
Concerts and festival security
It goes without saying that for public attended events such as concerts, festivals and gigs, security is paramount in keeping everyone safe and secure.
There are many things that festival and concert security will look out for. It's a sad fact that an act of terrorism is one of them. In the event of an attack, event security staff will initiate evacuation procedures, administer first aid and so on.
They will also act as marshals and stewards making sure people get to their seats and have the best possible time. They'll also perform bag searches and also form part of the show-stop process and team too.
No matter what your event is, or where it is, we have a local event security team who will make sure it passes without incident. And when there are incidents and problems, that they are resolved quickly and professionally.