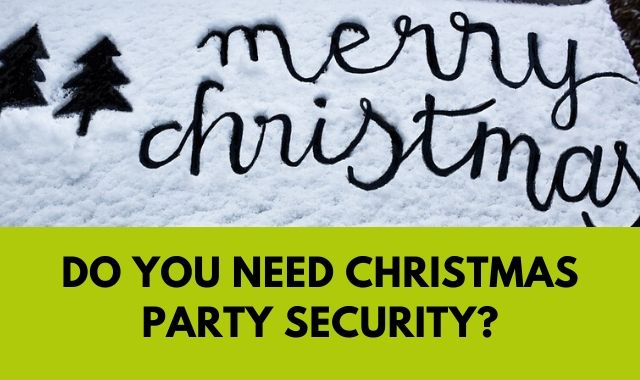 Do You Need Christmas Party Security?
Do You Need Christmas Party Security?
The festive season is a busy time with back-to-back social engagements from the works Christmas do to social events with friends and family. But do you need Christmas party security?
Why Christmas party security is a good idea
There are many reasons why hiring Christmas party security is beneficial;
#1 Prevent theft
It doesn't really matter where your Christmas party is held when your mind is on other things it leaves you vulnerable. And that means that possibility of theft including distraction theft is more prominent.
From having bags swiped from under your nose to pickpockets, there are many ways in which thieves get away with your stuff.
Visible security staff can help deter thieves.
#2 Escorting guests
From flagging down black cabs to making sure people get to their cabs or cars safely is important and one reason why security staff at a Christmas party can be a beneficial move.
Security staff are not just there to throw out troublemakers or break up fights. They are there to help too, making sure that your party runs smoothly.
#3 Keeping you safe
The annual Christmas party seems to be the one chance that colleagues take to really let their hair down. Embarrassing stories of mishaps and fun are all well and good but not everyone can handle the sheer excitement.
Aggression and abuse are not uncommon when excessive alcohol is involved. Security staff are well-versed to dealing with these situations and heading off disaster before it strikes.
#4 Checks the guest list
With everyone in party mode, everyone is looking for a great party. The problem is, they sometimes aren't on the guest list.
Partying with virtual strangers is no one's idea of fun and a guest list is a way to protect your party. But it won't do much unless you have security staff on the doors checking people are eligible to enjoy your hospitality.
#5 Emergency response
Things have a habit of going wrong and when they do, you need people who are able to take the lead in making sure that people are kept safe.
From first aid for someone injured at a party to emergency evacuation procedures, security staff are trained in all manner of disaster response which for you means peace of mind that should the worse happen, you are in safe hands.
Hiring Christmas party security staff is not about cramping the party spirit but making sure that everyone is safe whilst they are having fun.
Hire Christmas party staff from a leading security staff provider
All our security staff are SIA licensed which means they have all the correct training to offer security services at a range of events, including corporate events and Christmas parties. To find out more, email us!