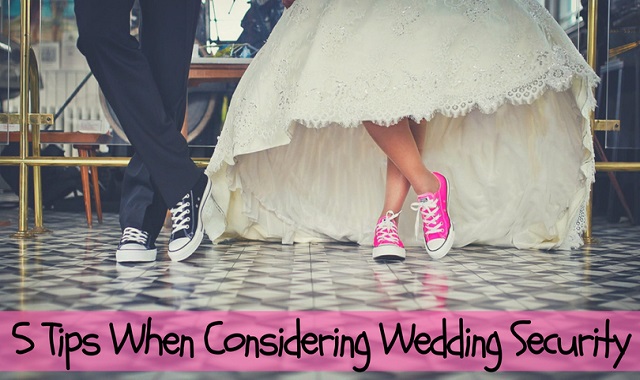 5 Tips When Considering Wedding Security
5 Tips When Considering Wedding Security
The recent Royal wedding has thrown a spotlight on a factor of getting hitched that not everyone considers – security.
It was a heady mix of security forces and police that made sure the Royal wedding was safe and secure, but for your nuptials, the security arrangements may be a lot simpler – and a lot less costly too!
A wedding should be a happy celebration – in some cultures, a wedding last for days with hundreds of guests – but all too often, we read of accidents, punch-ups at receptions and other less-than-savoury memories left with the happy couple and their families.
Is wedding security the answer?
We often think of security personnel head to toe in high visibility gear, complete with sensible boots and a walkie-talkie radio. Whilst this visibility is essential for a public event, for your wedding you would want more discreet but professional wedding security personnel.
Thankfully, this is exactly the weddings security service we provide. But, do you really need security at your wedding?
Here are five reasons why it is a must…
#1 Punch ups and slip-ups
A few drinks can make for entertaining karaoke BUT it can also make people aggressive, loose-lipped and a lot braver than what they normally are!
Unfortunately, looking through the headlines of titillating gossip of wedding punch-ups, the main factor in them all was alcohol.
Bar staff are trained to keep an eye on who is drinking what, as well as the level of inebriation. Our wedding security team can help with this too, a subtle way of successfully avoiding dance floor punch-ups or drama in the toilets.
#2 Wedding gate crashers
Wedding parties are great for dancing the night away but is everyone on the dance floor invited to the wedding?
The thing with gate crashers is that they tend to fall into two categories: people who turn up to enjoy the party and people who turn up to cause trouble.
The only way to stop gatecrashers is to have 'someone on the door' but herein lies a problem. Well-meaning people acting as bouncers could, in effect, end up causing more trouble than the uninvited guests.
All bouncers and door staff, just like wedding security staff, should hold an SIA licence to prove they are trained in appropriate security responses.
#3 Keeping an eye on valuables
Weddings are big business. It is a multi-million-pound industry with the average wedding spend being around he £30,000.
But as well as the money you've spent on your big day, there is also the money your guests have spent on wishing you and your significant other the best start to your new lives together.
A wedding security team could keep a close eye on valuables from cash gifts to expensive wedding presents.
#4 The wedding venue
The choice of wedding venue has grown in recent years. whereas at one time it was either the registry office or the church followed by a reception at a local hotel, you can now, in the UK, marry almost anywhere with a licence.
This means that wedding venues from your local high-class hotel to a marquee in a field can be the perfect location for your nuptials.
And it could be damaged by a few rampaging guests or idiotic gate crashers. Some venues may also charge a deposit to cover any potential damage too.
You could invest this money in wedding security instead, something that the venue owners will certainly welcome too.
#5 Should a situation arise…
The likelihood is, your wedding will go off without a hitch. Everyone will have a thoroughly good time with a few sore heads in the morning and many a tale to tell.
But situations can and do arise. It probably won't but evacuating a full hotel in the event of the fire alarm sounding needs to be done in an orderly fashion – and your wedding security team is on hand to lend a hand should this arise.
It probably won't happen, but there could be an accident, like a wedding guest taking a tumble down some steps or twisting their ankle in the conga train. Our wedding security staff hold first aid certificates too, excellent news should there be an accident.
Hiring wedding security is not a signal that you expect something to go wrong or you know it will all end in tears. It means you are investing in your wedding, your big day which has taken so long to organise – and one you clearly want to enjoy!